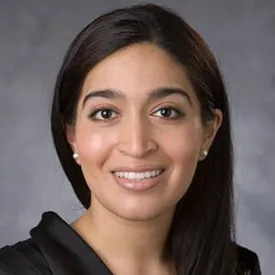 Dr. Amina Husain M.D
Ocula Plastic Surgeon
Dr. Amina Husain attained her medical degree in Ohio at NEOMED--a 6-year accelerated BS/MD program out of high school. She was salutatorian of her high school class of more than 600 students. After attaining her medical degree, she completed her residency in ophthalmology at UTMB in Texas. She then went on to North Carolina to complete a fellowship in Oculoplastic and Reconstructive Surgery/Laser and Endoscopic Facial Aesthetic Surgery and a second fellowship in Refractive Surgery both at Duke University Medical Center.
Dr. Husain has written and published several papers in the field of oculoplastics—plastic surgery around the eyes--as well as presentations and book chapters. Dr. Husain started working on eyelash transplantation in her fellowship and has been cultivating the best method to perform this procedure. Her method of Exquisite Eyelash eyelash transplantation is a very specialized and delicate procedure that requires great care and precision. Her background in oculoplastic surgery is why she is the specialist for this type of procedure. Dr. Husain has had an eyelash transplantation procedure performed on herself and personally knows the artistic nature of this procedure and the contentment of full, natural & permanent eyelashes. (eyelash pic here)